Controlled Bleeding Discography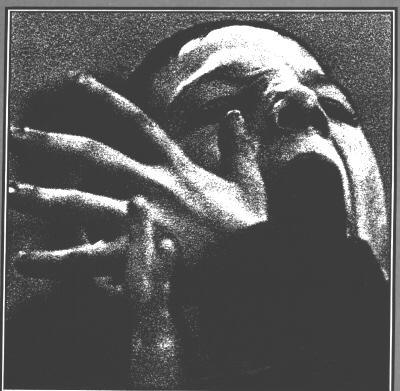 This page will try to list all releases by Controlled Bleeding as well as its many off-shoots.
I am updating this at last (Jan 2002)!!!
The way material has been re-issued on CD can get confusing. All the CD re-issues add extra tracks and often remix the original tracks. The original title is not always retained either.
Cassette Releases
Controlled Bleeding
side one. Wounded-but, welding the flesh of a clown with a lead penis.
side two. After the removing of the fingernails - paper cuts are applyed (sic) to the exposed skin.
Inner-X-Musick XXX 18 - 1984
Swallowing Scrap Metal
Gut Level - 1984 (sandpaper sleeve)
DISTRESS SIGNALS
Broken Flag BF39
SENSE MAY COME
Broken Flag BF42
Controlled Bleeding
Le Syndicat-bruitisme Lyrique - Le Syndicat 09 (Some of this appears on Phlegm Bag Spattered)
Controlled Bleeding
Psychout Productions - PSYPRO002 - December 1984 (inc. Hans Fahlberg's business card)
BLOODCLOT (Collaboration between Controlled Bleeding & Noizeclot)
side A: Out Of Order, Dead Air, Gray Matter, Sand
side B: The Shave, Filesticker
Recorded June 1985
Compact Disc Releases
The Drowning
Dark Vinyl - DV#14 - 1993

Phlegm Bag Spattered
Dark Vinyl - DV#02 - 1990 (Material from 1983-84)

Songs From The Ashes
C'est La Mort Records - CLM-CD022 - 1989 (Material from 1987-89)

Songs From The Drain
Dossier - DCD9057 - 1994 (Material from 1985-93)

Golgotha
Staalplaat - STCD007 - 1991

Dub Songs From A Shallow Grave
Dossier - DCD9072 - 1995 (Material from 1980, 1994-95)

Songs From The Vault
Dark Vinyl - DV#21 - 1993 (Material from 1984-85)

Music From The Scourging Ground
KK Records - 1989 (Material from 1987-88)

Curd
Dossier - DCD 9027 - 1991 (Material from 1985-86)

Body Samples
Dossier - DCD 9003 - 1990 (Material from 1983-84)

Bladder Bags and Interludes
Vanilla Records - 26 - 1992 (Material from 1983-91)

Gag
Materiali Sonori - MASO CD90009 - 19?? (Material from 1983-89)

Hog Floor
Subterranean Records - SUB67-2 - 1990 (Material from 1983-89)

Buried Blessings
Cleopatra Records - CLEO 1022-2 - 1993 (Material from 1986-93)

Trudge
WaxTrax Records - WAXCD 7090 - 1990 (Material from 1988-89)

Penetration
Third Mind Records - TMD 9165 - 1992 (Material from 1990-92)

Inanition
Hypnotic - CLP9720-2 - 1996 (Material from 1985-94, 1996)

The Poisoner
Soleilmoon - SOL 33CD - 1997

Songs From The Shadows (as In Blind Embrace)
Death Factory - DEATH-962 - 1996

Gilded Shadows
Hypnotic Recordings - CLP 0027-2 - 1997

Knees And Bones
Dossier Records - DCD 9084 - 1997 (Material from 1984,1993,1996)

Music For Stolen Icons II (Paul Lemos and Joe Papa)
Artware Audio Artware 12 - 1993

Rest In Peace (the best of Controlled Bleeding)
disc 1: Hard Rhythms And Noise
disc 2: Dark Voices And Instrumentals
Cleopatra Records CLP 0696 - 1999

Our Journey's End
Materiali 90125 - 2000

Can You Smell The Rain Between
Tone Casualties TCCD0264 - Jan 29, 2002
---
Vinyl Releases

Wall Of China Love Letter EP
Souptime - 1979

Lung Ties (As Body Sink)
EKSAKT Records 018 - 198?

Knees and Bones
Psychout Productions - PSYPRO003 - 1985 (500 copies)

Feet Hacked Rails (The Art Barbeque)
Dossier Records - ST7506 - 1985

Body Samples
Dossier Records - ST7505 - 1985

Curd
Dossier Records - ST7516 - 1986

Headcrack
Sterile Records - SR11 - 1986

Songs From The Drain
Dossier Records - ST7550 - 1987

Core
Subterranean Records - SUB56 - 1986

Songs From The Grinding Wall EP
WaxTrax Records - WAX044 - 1989

Words(Of The Dying) 12"
WaxTrax Records - WAX9091 - 1990

Trudge
WaxTrax Records - WAX7090 - 1990

Joined At The Head (As JATH) EP
WaxTrax Records - WAX9114 - 1990

Between Tides
Multimood Records - MRC002 - 1986 (Blue or black vinyl versions available)


Controlled Bleeding	 	Music From The Scourging Ground		Sub Rosa SUB33008-11

LP: BE 1988  

  		Side 1
		3:45 	Bright Shadows
		4:50	In Blind Embrace
		3:00	Near The Water
		3:50	An Awakening
		3:10	The Turning
		
		Side 2
		6:00	The Shallow Sky
		5:20	After Separation
		4:25	Voices Of The Dead        
		3:35	The Peacock (Music For Four Guitars)


Music For Gilded Chambers
Sub Rosa - SUB33018-24 - 1989

Gag
Materiali Sonori - MASO33054 - 198?

Sludge (As Paul Lemos)
Dossier Records - DLP7552 - 1989

Halved (Split LP With Maybe Mental)
Placebo Records 1986

Les Nouvelles Musiques De Chambre #1 (With Benjamin Lew)
Music For Earth and Water Part I-III
Sub Rosa Sub 33015-20 - 1989

Music For Stolen Icon (As Paul Lemos and Joe Papa)
Sub Rosa Sub 12003-6 - 1986

Various Artists Compilation Appearances

Album Title
Song Title(s)
Label/Catalog Number - Date

---
Cassette Only Compilation Appearances (see end of page for more)
---

Raped By Four Valentine's Day
Lung Suite
005 Watergate Tapes

The Way of the Sacred
Controlled Bleeding: Babalon
Controlled Bleeding: Furnace
Inner-X-Musick XXX 015 - 1985?

Hard Drugs
Controlled Bleeding: Untitled
NUX Organization (Compiled & Produced by K.K. Null) NUX-12 - 1986


Discordia Concordia
Controlled Bleeding: The Hills Inside
Controlled Bleeding: Untitled Bridge
Controlled Bleeding: A Second Half
Potter/Lemos: w/ commercials
(1987)

Musica Venenae - industrial culture music volume 1 (w/ 6 page 5"x8" booklet)
Controlled Bleeding: Fumes
Inner-X-Musick XXX 30 - 1985


TELLUS #13 - Power Electronics
Controlled Bleeding: Clotage (5:15)
TELLUS, the Audio Cassette Magazine 3159 - 1986

God Bless America 2xCassettes (Also as 3xLP with 10 extra tracks)
Controlled Bleeding: Mass Lung Week
Compiled by RRRecords for Statutory Tape STATAP 20

MORALITY (compilation + booklet with Controlled Bleeding, Le Syndicat, Jonathon Briley, Pax Romana, Ankh, Croyners, Shepherds, John Duncan, Un-Kommuniti, Next, Toll, Pacific 231, Anton Pna, Nine, The Grey Wolves, Giancarlo Tontiutti)
Broken Flag BF41

Controlled Bleeding/Uncommunity -- ACROSS THE STAGNANT POND
Broken Flag BF46

KP 18 Compilation - 6x10=60 Volume 3 (c60)
(with: Le Syndicat, Irritant, Controlled Bleeding, Chazev, Mauthausen
Orchestra, Kapotte Muziek)
Korm Plastics
---
Vinyl Only Compilation Appearances
---
Desperately Seeking Suicide (ltd. 500)
Priapismus Records, Munich, GERMANY, DSS-001 - 1987
Never Say When
Broken Flag BFV8
Dossiers
Fat Bedside
Dossiers ST7523 - 1986

Dossiers II
Be Silent
Dossiers DLP7546 - 1989

Dry Lungs
Scourge Tides
Placebo Records PLA15 - 1985

Dry Lungs II
Letters To The Life Cycle - Part 3
Placebo Records PLA21 - 1986

Dry Lungs III
On Eating Garbage (remix)(as Paul Lemos)
Placebo Records PLA026 - 1987

RRR 100 (As 7" Multiple Colors)
untitled
RRRecords RRR100

Ohrenschmalz
Unclean Records (limited 999 copies) - 1991

---
CD (Other Formats As Noted) Compilation Appearances
---
Comin' Down Fast! (Also as 10" Vinyl Pic Disc)
Bound In Stone
Helter Skelter Records HS931017 - 1993

Arcana Coelestia (Also as Vinyl LP)
The Shallow Sky
Arcana Coelestia (Paul Lemos With Joe Papa)
Multimood Records MRC007

Dry Lungs IV (Also as Colored Vinyl LP)
Save Us
Subterranean Records SUB 68-2

Dry Lungs V
Golgotha (excerpt)
Hog Tied (Paul Lemos)
Scat Fuck Party (Joe Papa Solo)
Diner Song/Hog Song/Untitled (Fat Hacker)
Moisture (Chris Moriority Solo)
In The Sewer Of Dreams (Skin Chamber)
Subterranean Records SUB72-2 - 1992

50 Years Of Sunshine
After The Rain
Silent Records SR9333 - 1993

The Marvels Of Insect Life (Doctor Deaths Volume IV)
The Turning
C'est La Mort Records CLM029-B - 1990

Endless 2
Glass On Wire, Pt. 2 (Brick Mix)
Manifold MANCD04 - 1995

Mindfield
Blessed Is The Burning Room
Third Mind Records TMD9159 - 1992

DeadHeads and Roses
By Ways
Voice Of The Dead
Near The Water
The Vigil
Sub Rosa SUBCD022-44 - 1992

World Record
Shoving Stump
Alchemy Records ARCD-042 - 1992

A Saucerful Of Pink (A Tribute To Pink Floyd)
Another Brick In The Wall Part 1 and 2
Cleopatra Records - 1995

Must Be Musique 2
Sonambulation (Paul Lemos)
Dark Vinyl #20

The Arbitrary Nature Of Meaning
Interlude #4 (Paul Lemos)
Isomorphic Records ISO001CD - 1994

Shrine
Hog Tied (Paul Lemos)
Cold Spring Records CSR4CD - 1993

Entertainment Through Pain (A Tribute To Throbbing Gristle)
AB/7A (Paul Lemos)
RRRecords RRR-CD-19 - 1995

The Myths Collection Part One
Under Heaven (Paul Lemos With Joe Papa)
Sub Rosa SUBCD0003-15

Dossiers
Hind To Hind
Raid (Joined At The Head)
Dossier DCD9037 - 1992

Dossiers II
Controlled Bleeding: Feast Of Fire (6:11)
Dossier DCD9078 - 1996

Dissolve - A Work In Progress
Sad Song (Fat Hacker)
Fused Coil 9868-63222-2 - 1996

MFTEQ/GHAFRAN (CD+Book)
Pets For Meat
T.E.Q MUSIC? MFTEQ93/1 - 1993

Total 2 - The Body (CD+Book)
Colostomia
Total2 - 1993

AfterLife
Thorn Of Fire (Parts 1&2) (Paul Lemos)
FastForward Recordings FF002 - 1993

Doctor Deaths Volume III (Also as Vinyl LP)
Controlled Bleeding: Bloody Ash
C'est La Mort Records - 1989


Spreading the Virus
Controlled Bleeding: Intro
Fat Hacker: Skin Me/Burn
Joined At The Head: In Penetration
Sentrax - 1992

Black Box Wax Trax! Records: The First 13 Years
Words (Of The Dying)
Wax Trax - 1994

Industrial Revolution 3rd Edition
Controlled Bleeding: Scrap Metal
Joined At The Head: The Kill
Cleopatra - 1996

Must Be Mental Volume II
Controlled Bleeding: Any Questions (Crotch-Rock-Mix)
Joined At The Head: The Kill
Paragoric PA 11 - 1995


A Tribute To The Music & Works Of Brian Eno
Controlled Bleeding: Somber Reptiles
Cleopatra CLP0016-2 - 1997

The Dark Side Of Electronics
Paul Lemos & JoePapa: Tormentor Reprise
CApp (Creepy Awesome Purple Projects) #ed edition of 999 special packaging
---
Some More Comps listed at an old Controlled Bleeding FTP archive site (Not able to confirm existence):
---
Swallow My Scrap Metal - Calypso Now
Tape Report #1 - ?
Tape Report #2 - ?
Tape Report #3 - ?
Erotika - XXX
Hear the ROAR of the Mtns. - Audiophile Tapes
Morality - ?
Tracks on P231 LP



Last Updated 01/15/2002

---